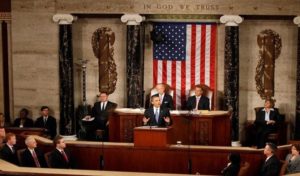 A group of Republican and Democrat members of Congress have addressed a letter to President Barack Obama wherein they voiced support to Morocco's "legitimate" response to the errors and unfounded allegations contained in the latest report of the State Department on the situation of human rights in the Kingdom.
The letter signatories ask the President to give "greater visibility" to Morocco's signal achievements, including in the field of human rights, and the important role it is playing to enhance stability and development in the region, reports the electronic website "Morocco on the Move."
The Congressmen deem that these achievements "need to be given much greater visibility in our public statements about this critical bilateral relationship with one of our oldest and most trusted partners."
The Congressmen recall in this respect that Morocco "is the only country in the region to have established with the United States, since 2006 and at the request of the Morocco, an ongoing dialogue on human rights that is intended to be an open forum for objective and constructive engagement on these issues."
This cooperative process aims at exchanging information intended to resolve issues throughout the year and contribute to the accuracy of the annual report, says the bipartisan group of congressmen.
In their letter, the Congressmen also recall that Morocco has been an ally of the United States "in both the early days and throughout our history, including during World War II, the Cold War and now our common battle against ISIL and other forms of terrorism and violent extremism."
Morocco had reacted strongly to the contents of the State Department's report on human rights, claiming that the document contains factual errors which misrepresented the Kingdom's human rights efforts.
The ambassador of the United States in Rabat, Dwight Bush, was even summoned, on Thursday May 19, to the Moroccan Foreign Ministry where his attention was drawn to the manipulation and blatant factual errors, which undermine the State Department's report, deemed by Moroccan authorities as "outrageous."