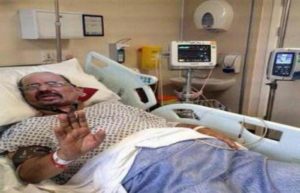 The Polisario chief Mohamed Abdelaziz told his doctors and his close friends, shortly before he died on May 31 in the Mayo Clinic in Rochester, Minnesota in the United States, that he "regretted his alliance for half a century with Algeria."
Mohamed Abdelaziz's unprecedented confessions are reported by some US news websites, including USNews&World Report and American Media Institute.
The article entitled "Dying Sahara rebel leader regretted Algeria alliance," and published  by the two US websites, states that Mohamed Abdelaziz's doctors and friends were "surprised" by the confessions of the Polisario chief who said shortly before he died that he "regretted his alliance with Algeria."
According to the two US media, the Polisario chief also told his entourage that he felt guilty over the senseless tragedies caused by the Sahara conflict.
These confessions were also relayed on 1 June 2016 by the Spanish news website "lainformacion.com" which reported that "Mohamed Abdelaziz had confessed to his confidants that he had realized that his own beliefs had become "obsolete" and that the long-simmering conflict in the region was pointless. The dying leader also regretted his alliance with Algeria and felt guilty over the (Western Sahara) conflict.
According to the news Websites, the leader of the Polisario Front, in addition to his regrets, made a surprising final request: that he be buried in Bir Lahlou, a small village in Morocco, his native country, and not in Algeria.
This last wish is another indication of the regrets and remorse that were gnawing Mohamed Abdelaziz on his deathbed.
The fact that Mohamed Abdelaziz chose this Moroccan city located in the DMZ, under the cease-fire of 12 October 1991, translates his sense of belonging, his claim to his genuine identity and his attachment to his native country where his father, his two brothers, a lawyer and a doctor, and the rest of his family are living.
Mohamed Abdelaziz's revelations, which reflect his sorrow for having been forced to betray his family and his country, will surely rock the Algerian political and media oligarchy.