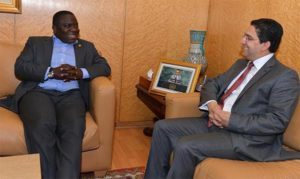 Zambia withdrew its recognition of the fanciful Sahrawi republic "SADR" and broke off diplomatic relations with the entity, self-proclaimed by the Polisario Front.
The decision was announced Saturday night by Zambian Foreign Minister Harry Kalaba, currently visiting Morocco, following a meeting with Moroccan Minister Delegate for Foreign Affairs and Cooperation, Nasser Bourita.
In a brief statement to the press, Harry Kalaba said the government of his country expresses "strong support" for the efforts made by the United Nations, under the aegis of the Security Council and the UN Secretary General, to achieve "a political, just, lasting and mutually acceptable solution to the Sahara conflict, in accordance with the relevant resolutions of the security Council."
Zambia's announcement took place Saturday, the same day Brahim Ghali was appointed Polisario leader by the 15th extraordinary congress of the separatist front, held July 8-9 in the Tindouf camps, southwestern Algeria. Ghali succeeds Mohamed Abdelaziz at the head of the Polisario and its pseudo SADR, which has never been recognized by the UN or the European Union.
Ghali, a man close to the Algerian regime and hardliner in the Western Sahara conflict, was the only candidate in this so-called election.
Zambia recognized the pseudo-Sahrawi Republic in 1979, froze this recognition in 2011, and rescinded the decision two years later, under pressure from Algeria and South Africa.
Zambia's new decision to withdraw its recognition of "SADR" and sever its links with the Polisario Front constitutes a diplomatic victory for Morocco on the African scene.
Lately, Morocco, which is strongly supported by French-speaking African countries, has been focusing on English speaking countries that continue to back the Sahrawi separatist movement. Morocco seeks to convince these countries to change their stand and correct past mistakes which prompted the Kingdom to withdraw from the Pan African organization following the admission of "SADR" in 1984