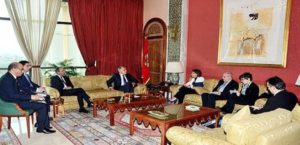 Morocco has given the green light for the return of a first contingent of 25 officials of the civilian component of MINURSO in the Moroccan southern city of Laayoune, where the mission is based, according to a Moroccan official source.
"Only the civilian component is concerned. There is no return of the political component," the Moroccan official said on condition of anonymity.
Through this decision, Morocco has complied with resolution 2285 adopted last April by the Security Council and which, among others, calls for "the return of MINURSO to its full functionality," he said.
He explained that "full functionality" does not necessarily mean the return of all the 73 civilian employees expelled by Morocco nor their replacement with the same workforce. It was necessary to know the exact number of the civilian employees and the specific tasks of each one of them, for the full functionality of the mission.
This issue was discussed at a meeting in Laayoune on June 10 that gathered a visiting UN technical mission and the Special Representative of Ban Ki-moon for the Sahara and head of MINURSO, Kim Bolduc. Major General Muhammad Tayyab Azam [Pakistan] attended the meeting.
Resolution 2285 sets a 90-day period (expiring end of July) for Morocco and the UN chief Ban Ki-Moon to brief the Security Council on the outcome of their negotiations at the session scheduled for July 26.
Morocco, which expelled the MINURSO civilian members in March, had also announced the suspension of its voluntary financial contribution to the functioning of this mission. According to figures released by the UN on March 16, Morocco's contribution totaled $3 million (about 29 million Dirhams).
However, a document detailing the annual budget of MINURSO for the period running from 1 July 2015 to 30 June 2016 shows that Morocco's contribution amounts to around $2 million. MINURSO's total budget stands at about $53 million.
Now, Morocco's voluntary contribution will be entirely borne by the UN.