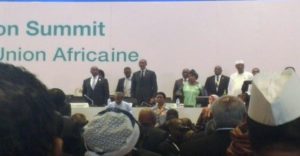 The summit of the African Union (AU) in Kigali was marked by unexpected twists regarding the Sahara issue with Morocco's return to the African fold and the motion signed by a majority of 28 African states demanding the suspension of the pseudo-SADR, the Republic proclaimed by the Polisario with Algeria's support.
The motion was handed over on Monday to the AU presidency by Gabonese President Ali Bongo Ondimba, on behalf of the signatory countries which will soon be joined by a dozen other African states.
The signatories believe that the suspension of the SADR will allow the AU to "play a constructive role and contribute positively to the UN efforts to find a lasting settlement to the regional dispute over the Sahara."
An irrefutable argument, since the Polisario's Republic is recognized neither by the UN or any other international or regional organization with the exception of the AU.
Senegal's President Macky Sall has actually clearly explained the situation when he said that the motion "is in compliance with international law (…) since the SADR has not been recognized by the United Nations and other international organizations." "We ask that SADR be suspended from the AU," he insisted.
All the motion signatory countries are determined to lead the process to the end. The motion was explicit about this. The signatory States "welcome the decision of the Kingdom of Morocco, a founding member of the OAU whose active contribution to the stability and development of the Continent is widely recognized" to integrate the African Union and promised "to work so that Morocco's legitimate return be effective as soon as possible."
In any case, the fate of the republic unconditionally supported by Algeria should be settled at the next AU summit in January 2017 in Addis Ababa.