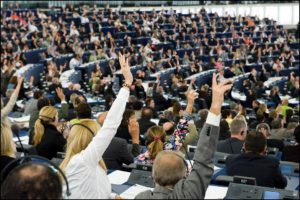 The Polisario leaders were deeply angered by the European Parliament's refusal to endorse an amendment proposing to increase assistance to the Tindouf camps populations, as investigation into the massive embezzlement of EU humanitarian aid by Polisario executives, in connivance with Algerian military and civilian officials, is still underway.
The European Parliament rejected on Tuesday in Strasbourg an amendment to include in the 2017 budget of the European Union a new aid of €150 million to the Tindouf camps population, as suggested by pro-Polisario MEPs from the Confederal group of the European United Left/ Nordic Green Left.
The European Commissioner for humanitarian aid, Christos Stylianides, had announced last July that the European Commission was determined to revise downward the aid it grants to the Sahrawi populations in Tindouf and that the Commission demands a formal evaluation of the beneficiaries' vulnerability.
He has said that the Commission also intended to base its assistance programs for the Algeria-based Tindouf camps on the needs of 90,000 people only, the number of the Sahrawi "refugees" as assessed by the UN High Commissioner for Refugees (UNHCR.) This too constitutes a setback for the Polisario leaders and their mentors who put the number of refugees at around 200,000.
On the other hand, European authorities disapprove the Algerian Government for levying Value Added Taxes on the goods destined to the Tindouf camps.
Likewise, they condemn Algeria's stubborn refusal to allow the UNHCR to conduct a census of the inhabitants of the Tindouf camps, as an accurate number will make it easier to quantify the assistance they really need and therefore avoid the diversion of the aid before it reaches the beneficiaries.
The Polisario leaders, who were expecting more aid following the recent floods recorded in the Tindouf camps, are surely disenchanted all the more so as their shenanigans do not fool anyone anymore.