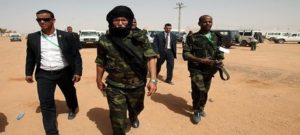 The leader of the Polisario separatist Front Brahim Ghali is disinclined to go to Spain to attend a conference of the European Polisario Support Coordination (EUCOCO), scheduled for November 18-19 in Villanueva y Geltru, near Barcelona.
The torturer of the Tindouf camps, who is the subject of several complaints for "genocide, torture, disappearance and slavery", fears to be pinned by Spanish justice, in case he sets foot on Spanish soil.
Last Friday, Judge José la Mata of the National Audience, in charge of this case, ordered the police to provide him with all information about Brahim Ghali, the Polisario's former representative in Spain, Reports a Spanish media.
Actually, Brahim Ghali is on a list of 25 Polisario members and 3 officers of the Algerian army accused of "genocide, torture and disappearance", in a complaint filed at the National Audience by the Sahrawi Association of Human Rights (ASADEDH) in 2008.
A year earlier, the same court had received another complaint filed by a young Spaniard of Sahrawi origin, Soltana Bent Bilal, who accused Brahim Ghali of rape and slavery. He was then holding the position of so-called defense minister.
In December 2008, judge José la Mata had summoned Brahim Ghali to hear his version of the incident, but the latter was immediately moved out of Spain by the Algerian military intelligence services.
He was later on appointed "Ambassador" of the pseudo Sahrawi republic "SADR" in Algiers, a position he held until his appointment in December 2015 Secretary General of the Polisario and President of the pseudo- "RASD."
The reopening of these cases by Spanish courts led Ghali to think carefully about the risks of a trip to Spain, even if he deeply wishes to visit the European country to gain a kind of international "recognition."
Yet, with the exception of few African countries that are still fooled by the Algerian propaganda machine and continue to support the Polisario, Brahim Ghali does not have much of a choice if he wants to travel abroad.