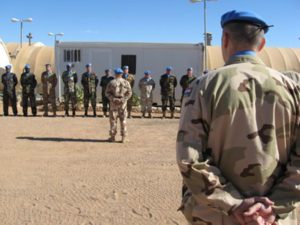 The United Nations Mission in Western Sahara (MINURSO) is seemingly losing its credibility because of its complacency regarding the Polisario's new provocative maneuvers in the buffer zone, contiguous to the Moroccan border post of Guerguerate.
While Mauritanian authorities deal rigorously with the movement of the Polisario's executives and militiamen and ban them access to the northern border zone with Morocco and particularly to Laguouira, the MINURSO agents seem to have forgotten their mission, that of monitoring the ceasefire in the buffer zone in Western Sahara, and turn a blind eye to the actions of the Polisario.
After it had been signaled that a small group of Polisario armed militiamen were present in the beaches of Lagouira, rumors circulating these past days on social networks, mention the settlement, not far from Guerguerate, of Sahrawis who have been displaced from the "Dakhla" Camp in Tindouf. According to these rumors, the Sahrawis were dislodged by the Algerian army to enable the exploitation of a recently discovered mineral deposit.
This maneuver is, according to many Western jurists, a blatant violation of the UN ceasefire in Western Sahara decreed in 1991.
Credible sources in Tindouf have confirmed that "two days ago, a caravan, with some fifteen families, left the Dakhla camp and headed towards the buffer zone of Guerguerate."
According to the initial plan, these displaced families were to be settled in the locality of Lagouira, which is currently under the control of the Mauritanian army. However, as Mauritanian authorities prevented them from doing so, the Polisario leadership finally redirected the families to the buffer zone where some thirty Polisario armed militiamen are already stationed.
The Polisario's provocations intervene in the wake of the warming up of relations between Rabat and Nouakchott following the phone call that King Mohammed VI had with the Mauritanian President Mohamed Ould Abdel Aziz, last December 27. Moreover, since that date, Mauritanian authorities have banned Polisario elements from going to Lagouira.
MINURSO's inertia regarding these provocative maneuvers by the Polisario is likely to stir up tension and amplify the risks of an armed confrontation that would destabilize the entire region.