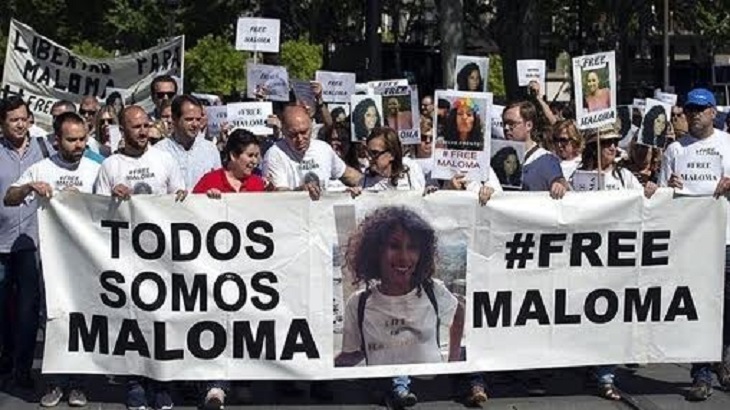 The Spanish NGO, the citizen platform for the liberation of Sahrawi women kidnapped in Tindouf, has launched a petition calling on the Spanish government to exert pressure on the Polisario in order to obtain the release of the women detained against their will in the Tindouf camps, in Algerian territory.
In this petition posted on the website www.change.org, the Spanish NGO, where the adoptive parents of these Sahrawi women are active, calls on Madrid to suspend "any form of institutional, economic or financial aid" for the Tindouf camps until these women, some of whom holding the Spanish nationality, are allowed to return freely to Spain.
According to the Andalusian newspaper El Diario, the petition, which has already collected more than a thousand signatures, recalls that these young women "are victim of a tribal society which exerts all kinds of violence and discrimination against them… and forces them to live a life they have not chosen."
According to Sahrawis from the Tindouf camps, the Polisario leaders force the parents to marry their young girls to elements of armed militia of the front to prevent them from leaving the camps.
The same sources explain that the Polisario leadership detained the Sahrawi women holding Spanish nationality in retaliation against the Spanish government, which aligned itself with Morocco's position in the Western Sahara conflict and drastically reduced its humanitarian aid to the Tindouf camps. The aid dispatched to the Tindouf populations comes only from civil society.
The judicial proceedings recently launched by the Spanish judiciary against the Polisario leader Brahim Ghali accused of "crimes against humanity, human rights violations, torture and rape" have only hardened the attitude of the Polisario leaders towards Madrid.
It is worth recalling that the Polisario leaders are used to gamble on family ties. They forcibly held the parents or relatives of the Sahrawis who have managed to escape from Tindouf to force them to return.