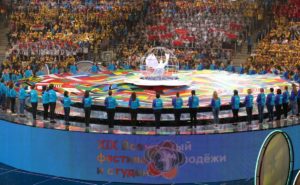 The Polisario propaganda has lost its luster and its militiamen and activists are unwanted wherever they go.
After the slap it was dealt at the beginning of this month by Lebanese authorities, the pseudo "SADR" received another hard blow from the Russian Federation, long regarded as a great ally of Algeria, the separatists' godfather.
Early October, Lebanese authorities had refused the screening of an anti-Moroccan propaganda documentary at the 17th Beirut International Film Festival.
And later in the month, some 100 young militias of the Polisario, who were preparing to travel to Russia to represent the "SADR" at the 19th World Youth and Students Festival (WFYS2017), were denied entry visas by the Russian embassy in Algiers.
Contrary to the Polisario allegations, which explained the rejection by a so-called "delay" in the visa applications filing, the Russian diplomatic mission in Algiers made it clear that the visas were refused because no Polisario delegation was invited by the organizers of the 19th World Youth and Student Festival.
Yet, the Polisario had made a great media fuss about its participation in this Festival. The 100 members of the delegation were even received in Rabbouni by the head of the Front, Brahim Ghali, who recommended that they take advantage of their presence in Russia to "make known the Sahrawi cause".
It should be noted that this is the first time that a delegation from the Polisario has not been authorized by Russian authorities to participate in this world youth event that takes place once every four years. This year, the festival opened three days after the visit of the Russian Prime Minister, Dmitry Medvedev, on 11 October in Morocco.