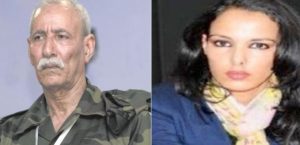 Khadijatou Mahmoud, a young Sahrawi from the Tindouf camps, unveiled openly the details of her rape in 2010 in Algiers, by the current leader of the Polisario, Brahim Ghali.
 The victim gave details of her traumatic experience at a conference on human rights violations committed by the Polisario. The conference was held in Paris October 21 by AIDE Federation, an NGO for action and humanitarian aid.
 She said that in 2010, she was working as an interpreter in the office of the so-called "Prime Minister" of the Sahrawi Republic "SADR" and that during a Marathon in Tindouf, she had been picked as the accompanist of a delegation of an Italian NGO.
To thank her for her help, the NGO invited her to visit Italy. She applied for a visa but before picking her passport at the Italian consulate in Algiers, she had to go through the so-called "embassy" of the "SADR" in Algiers, headed at the time by Brahim Ghali, to get an authorization to leave the camps.
  It was there that her nightmare started and her life changed.
 She said that she showed up at the "embassy" at 9:00 am, but was given an appointment at 7:00 pm. "I arrived with a friend, but the caretaker stopped her at the door. I went straight to Brahim Ghali's office and showed him my documents. He put them aside…" Khadijatou told a dumbfounded audience, before adding that he started touching her right away, while saying, "Let me do it, afterwards, I'll give you the visa, some money. All that you want".
 "I started screaming, struggling to push him away," she said in a shaky voice, before adding that Brahim Ghali ended up raping her "with such brutality that I started bleeding severely (…)".
 Khadijatou Mahmoud has decided to file a complaint against Brahim Ghali at the Audiencia National, Spain's high court.
In addition to Khadijatou Mahmoud's complaint for rape, the Polisario leader is also prosecuted before the Spanish court following a complaint for genocide and torture, filed in 2012 by the Barcelona-based Sahrawi Association for the Defense of Human Rights (ASADEH).
With the hashtag "expose your pig", launched in the wake of the Harvey Weinstein case, many women from the Tindouf camps who have been sexually harassed and assaulted, like Khadijatou, have decided to break the silence and to testify openly against Brahim Ghali and his lieutenants who do whatever they want of the Tindouf camps populations without being bothered.