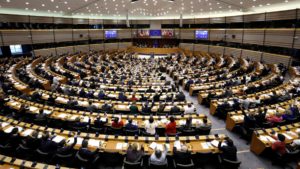 Members of the European Parliament who defend the Polisario's pro-independence theses have suffered another setback in Strasbourg, where the European Parliament (EP) adopted in a plenary session Wednesday its 2016 annual report on human rights and democracy in the world and European policy in this area.
In this report, voted by 443 votes to 84, with 95 abstentions, the EU's legislative body hailed, contrary to the expectations of lobbies hostile to Morocco's interests, the significant progress recorded by the Kingdom in matters of respect for human rights and democratic reforms.
It also reiterated the EU's commitment to support Rabat in its ongoing reforms process, through the implementation of constitutional principles.
In its report, the EP states that 5 years after the adoption of the 2011 Constitution, Morocco has pursued reforms in the areas of migrants' rights, women's rights, and reform of the judiciary and penitentiary system, key sectors where new policies have been launched with the support of the EU.
Before the adoption of the new report, the European Parliament rejected all the amendments hostile to Morocco's interests in its Sahara.
The report, which gives priority to the rights of minorities, women and children, is a continuation of the report drafted by rapporteur Pier Antonio Panzeri, chairman of the EP's Human Rights Committee.  
The methodology followed by Panzeri is based on a thematic approach intended to be "more accurate and more relevant" instead of the sole geographical approach, explained the chairman of the Morocco-EU Joint Parliamentary Committee Abderrahim Atmoun.
Since 2014, the choice of a thematic approach in the realization of this report "has allowed a more accurate assessment by the European Parliament of the human rights situation in the world". The Joint Morocco-EU Parliamentary Committee has endeavored to make this step forward, recalled Abderrahim Atmoun who attended the PE plenary session.
For Atmoun, the new EP report has once again thwarted the maneuvers of the anti-Morocco parties who exploit the Sahara issue to serve Polisario's separatist theses.