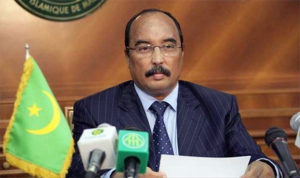 Mauritanian President Mohamed Ould Abdel Aziz on Wednesday appointed a new ambassador to Morocco, after the position remained vacant for five years, because of politico-diplomatic differences between the two countries, official sources in Nouakchott said.
The new ambassador is Mohamed Lemine Ould Aboye, the former Minister of Hydraulics and Sanitation. He had also been positioned as Mauritania's ambassador in several African capitals, including Dakar and Niamey.
Analysts see in the appointment of the new Mauritanian ambassador a signal of a thaw of relations between the two neighboring countries.
Among other reasons that strained bilateral relations for a long time, Mauritania blamed Morocco for offering shelter to opponents to the Mauritanian regime, while Morocco frowned at the rapprochement between Nouakchott and the Polisario and its mentor, Algeria, its main opponents in the Sahara conflict.
The recognition by Mauritania of the so-called Sahrawi Republic (SADR), self-proclaimed by the Polisario, further exacerbated the relationship between the two Maghreb countries that were once very close to each other.
However, despite the tension marking bilateral relations, the leaders of the two countries showed restraint to avoid any escalation, even during the crisis, which opposed last summer Moroccan security forces to armed militia of the Polisario at the border post of Guerguarat, the only official land crossing between Morocco and Mauritania.
Tension has started to defuse when Rabat recently decided to "drive out" Mauritanian opposition leader Mohamed Ould Bouamatou. Nouakchott accuses Ould Bouamatou of financing rebel actions in the country and of having prompted Mauritanian senators to oppose the President-proposed constitutional amendments submitted to a referendum last August.
Let's hope that the appointment of Mauritania's new ambassador to Morocco will start a new era in the relationship between the two sisterly countries.