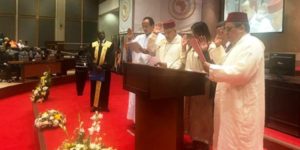 Morocco is making new breakthroughs at the level of the governing bodies of the African Union (AU). After its membership to the Pan-African Parliament was formalized on May 7, a week later, Moroccan MP Meryem Ouhssata was elected rapporteur of the justice and human rights committee of the African consultative assembly, which is convening its 6th ordinary session in Midrand near Johannesburg (South Africa).
As a reminder, this institution, like other leading institutions of the AU, has long been used by Algerian diplomats and their Polisario protégés to have it endorse decisions that are hostile to Morocco's strategic interests in the continent and to its territorial integrity.
The MP of the parliamentary group "Authenticity and Modernity" in the lower house of the Moroccan parliament was elected by 11 votes to 5 for her rival.
The election of Moroccan MP Meryem Ouhssata comes just a week after Morocco's accession to PAP was formalized at the opening the 6th ordinary session of the pan-African institution.
The Committee on Justice and Human Rights is one of the important structures of the Pan-African Parliament, whose recommendations and decisions are submitted to the Summits of AU Heads of State and Government.
MP Ouhssata explained that her election as rapporteur of the Committee on Justice and Human Rights will allow Morocco to be represented in the PAP bureau and to foil the maneuvers hatched by Algeria and the Polisario against the Kingdom and its territorial integrity.
For the Moroccan MP, this is a significant political and diplomatic gain for Morocco, which returned to the African Union in January 2017.
These breakthroughs within Pan-African institutions reinforce Morocco's place on the African stage and give a new dimension to its contribution to the continent's development efforts at the political, legislative, economic and social levels.