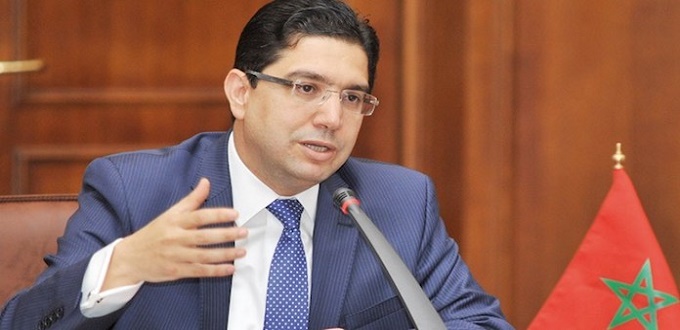 Morocco broke off Tuesday (May 1) diplomatic relations with Iran. Morocco accuses Iran of having facilitated the delivery by its ally, Lebanese Hezbollah, of weapons to the Polisario Front.
At a press conference Tuesday in Rabat, Moroccan Foreign Minister Nasser Bourita said that "Morocco has undisputable evidence, identified names and specific facts that corroborate this connivance between Polisario and Hezbollah against the Kingdom's supreme interests".
The head of the Moroccan diplomacy revealed that a "first delivery of arms was recently provided to the Polisario" via an "element" at the Iranian embassy in Algiers.
The Moroccan ambassador to Tehran "left Iran on Tuesday and I will ask the chargé d'affaires of the Iranian embassy to leave the kingdom without delay," added Nasser Bourita who was back from Tehran few hours earlier. Bourita said he informed his Iranian counterpart Mohammad Javad Zarif in Tehran of the Moroccan decision.
The reaction of the Iran-backed Lebanese Shiite movement was not long in coming. The same day, it denied the Moroccan accusations. "It is unfortunate that Morocco is yielding to pressure from the United States, Israel and Saudi Arabia to lay these false accusations," Hezbollah said in a statement.
On Wednesday it was the turn of the Iranian Foreign Ministry and its embassy in Algiers to "firmly" deny Morocco's accusations, saying they are just a "pretext" to cut diplomatic relations between the two countries.
The Iranian Ministry said that the Islamic Republic has always adopted as a principle the "respect" for the "sovereignty and security" of the countries with which it has diplomatic relations, and "the non-interference in their affairs".
Meanwhile, Saudi Arabia, the United Arab Emirates, Bahrain and Qatar as well as the Gulf Cooperation Council voiced their total solidarity with Morocco.
In an official statement, Riyad said it "firmly condemns the Iranian interference in Morocco's internal affairs through its instrument, Hezbollah's 'terrorist' militia, which is training the elements of the so-called 'Polisario' group to destabilize the security and stability of the Kingdom of Morocco".
Saudi Arabia will always stand by Morocco in the defense of its security, stability and territorial integrity, and expresses solidarity with brotherly Morocco against whatever may undermine its security, the statement said.