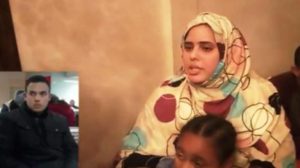 More than a hundred Sahrawis of the Tindouf camps flocked on Saturday (June 16) to the Rabbouni camp to demand an investigation into the suspicious death, in the Dheibya prison, of opponent to the Polisario Brahim Ould Salek Ould Breika, 30, who has been reportedly tortured to death by the Polisario militia.
The protesters, as shown in a video relayed by several media , gathered in front of the home of the separatist front's leader, Brahim Ghali. They were immediately dispersed by the armed militia of the Front who fired several shots into the air before using batons to disband the protesters.
The protesters who question the version of the suicide put forward by the torturers of the Dheibya prison, located in Rabouni, demand the opening of an independent investigation to elucidate the exact circumstances of the death of Salek Ould Breika, a very active member of the Movement of March 5th.
The family of the Sahrawi opponent, from the Yagout tribe, claims to have evidence that Salek Ould Breika was murdered on Saturday, January 13, in Dheibya prison, contrary to the suicide thesis put forwards by the Polisario leadership.
Salek Ould Breika's family, who had also demanded an autopsy before his burial three days after his death, sent a letter to United Nations Secretary-General Antonio Guterres asking that the perpetrators of the crime be referred to the International Criminal Court in The Hague.
Breika, who was serving a prison sentence for alleged "belonging to a criminal gang specialized in theft," hanged himself with the "wire of an air conditioner of the individual cell," where he was detained, according to his jailers.
The version is most unlikely as witnesses on the spot affirm that the cells of the Dheibya prison are not equipped with air conditioners, contrary to the allegations of the Polisario leaders.
Breika's relatives wonder how an inmate tied to a chair, with hands and feet tied up, can hang himself.
Moreover, it is not the first time that the torturers of the Polisario assassinate prisoners and claim that they committed suicide. Another opponent, Ahmed Ould Mohamed Radi, had also been tortured to death in his cell. Again, his jailers claimed he had hanged himself with the wires of a fan.