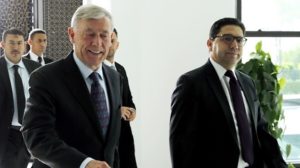 The Personal Envoy of the UN Secretary-General for the Sahara, Horst Köhler, is visiting Morocco this Wednesday (June 27), as part of his second tour in the region, which took him to Algiers, Nouakchott, and Rabbouni in the Tindouf camps (southwestern Algeria).
In Rabat, the UN mediator is to hold talks with the head of government, Saad Eddine El Othmani, and the Foreign Minister, Nasser Bourita.
Köhler will later on visit the Southern cities of Dakhla and Laayoune for contacts with local authorities, elected officials and representatives of the civil society and probably with the command of the UN Mission in the Sahara "MINURSO".
Köhler's tour comes two months after the UN Security Council adopted resolution 2414 on April 27, 2018. The resolution notably reaffirmed the pre-eminence of the Morocco-proposed Autonomy Initiative and underlined that realism and a spirit of compromise are essential to progress towards a realistic, pragmatic and sustainable political solution to the regional dispute over the Moroccan Sahara.
The highest authority of the United Nations likewise urged the neighboring countries, Mauritania and particularly Algeria, whose responsibility in the perpetuation of this conflict is no secret, to get more involved in the UN-sponsored settlement process seeking to reach a political solution.
The Council also issued a new injunction to the Polisario, ordering it to respect the status quo in the buffer zone as defined by the 1991 cease-fire agreements, and to abstain from taking any civil or military action likely to modify this status-quo.
In the resolution, the Security Council asked for the umpteenth time Algiers and the Polisario to authorize the UN specialized agencies to proceed to the registration and head count of the inhabitants of the Tindouf camps.
Horst Köhler's new tour began on June 23 in Algiers, where he was received by the Foreign Minister and the Prime Minister before going to the Tindouf camps.
The UN envoy traveled to Nouakchott on Monday, where he discussed the Sahara issue with the Mauritanian President and his Foreign Minister.
After Rabat, Köhler, who made no statement on his consultations, will visit Laayoune and Dakhla.
He will then fly to Spain, a member of the Group of Friends of Western Sahara, along with France, USA, Russia, and the UK.