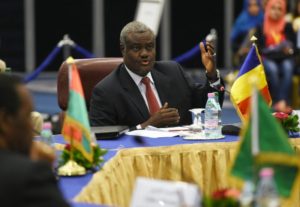 The report on the Moroccan Sahara presented Sunday by the chairperson of the African Union Commission, Moussa Faki Mahamat, at the 31st Summit of African Heads of State gathered in Nouakchott, has supported the position of Morocco, to the chagrin of Algeria and the Polisario, which tried hard to get the AU involved in this territorial conflict.
In his report, Moussa Faki stressed, to Morocco's great satisfaction, that there is a need for the African Union to adopt an approach that supports the efforts led by the United Nations, to increase the chances of success of these efforts.
The report thus clearly highlights that the role of the AU is to support UN efforts and the UN Secretary General's Personal Envoy. In other words, there is no way for the AU to develop a process parallel to that of the United Nations.
The report submitted by Moussa Faki to the African Heads of state has thus acknowledged the primacy of the UN process in the management of the Sahara issue, excluding any parallel process, as put by Foreign Minister Nasser Bourita, who led the Moroccan delegation to the AU summit.
The Moroccan Sahara issue is handled "exclusively and solely at the United Nations," he said at a press conference in Nouakchott, host of the 31st African summit.
Another reason for satisfaction: The AU's Peace and Security Council, long instrumentalized by Algeria and its allies, was divested from treating the Sahara issue and so was its president, the Algerian Smail Chergui who does not hide his hostility to Morocco and his unconditional support for the Polisario's claims.
The members of the Moroccan delegation feared that the Chadian Moussa Faki would yield to the pressure of Algeria and South Africa by giving the CPS a leading role in this matter.
However, in his recommendations, Faki asserted that "to ensure the necessary coherence, the Sahara issue would only be mentioned in this context and at this level", i.e. the level of the AU Conference and African Heads of State.
In this connection, the President of the AU Commission recommended the setting up by the Conference of Heads of States of a follow-up mechanism, made up of the AU troika (the current Chairman of the AU, his predecessor and his successor), in consultation with the President of the AU Commission.
The winds of change are blowing over the continental organization. It can no longer be instrumentalized to serve separatist purposes.