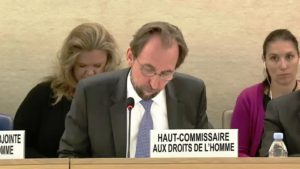 The UN Human Rights Council (HRC) last Thursday urged Algeria to allow the UN High Commissioner for Refugees (UNHCR) to register the inhabitants of the Tindouf refugee camps as stipulated by several Security Council resolutions.
This came during the Universal Periodic Review on Algeria's human rights record that took place at the HRC's 38th session, held from June 18 to July 6 in Geneva. The North African country's representatives were then called to respond to the many questions raised by international NGOs and members of the HRC on violations of rights and freedoms in the country as well as in the Tindouf camps established on Algerian territory.
Regarding abuses in the Tindouf camps where the Algerian regime has de facto transferred its jurisdictional powers to the Polisario, the Action Center for Rural Development declared campaigning against "the silence on atrocities in the Sahrawi refugee camps near Tindouf". The center also deplored the fact that "most of the torturers today occupy high positions in the administration of the Polisario Front" instead of being punished for their offenses.
For its part, the Dunenyo Association "drew attention to the alarming situation in the Tindouf camps and the powerlessness of the UN High Commissioner for Refugees to obtain authorization from Algeria to conduct a census of the Sahrawi populations in these camps".
To defend themselves, the Algerian delegates were quoted by the TSA news website (Tout Sur l'Algérie), as saying that "it is not up to the Algerian judiciary to go and regulate what happens between temporary refugees in Algeria".
The most amazing thing is that the delegates raise the question "why these people find themselves refugees in a third country," notes TSA.
Unfortunately, neither these delegates nor the Algerian media had the courage to recall the genesis of the Polisario Front, the circumstances of its creation and the identity of those who were at the origin of its setting up in the early 70s.
Let's recall that during the whole era of Spanish colonialization of the Moroccan Sahara, no mention was ever made of the existence of an independence movement or a chimeric republic.
The Polisario and its pseudo-"SADR" were created by the Algerian and Libyan regimes of the time for hegemonic purposes.