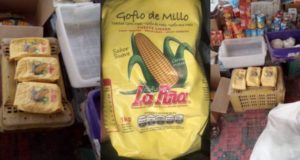 In the Tindouf camps in Algeria, thousands of Sahrawis living in poverty and precariousness have just learned the hard way that the international food aid intended for them was again diverted by the Polisario leaders and put on sale in markets in Algeria.
Gofio, a corn flour supplied by Spanish NGOs and which is part of the food largely consumed by the Sahrawis living in the Polisario-run Tindouf camps, was displayed for sale in Algerian grocery stores.
The scandal was revealed by futurosahara.net, a site close to the polisario, but critical of some practices of the separatists.
The population in the camps was anxiously awaiting the arrival of the shipment of Gofio, a nutritious and thirst-quenching product that Sahrawis of Tindouf mix with milk to cope with the heat wave.
The revelation that the awaited assistance was diverted again has revived their resentment against the Polisario leaders and their awareness that they are being used to enrich these leaders and to serve the agenda of Algeria in the region.
Anyways, this is not the first time that the polisario is pilloried for food assistance diversion. Already in January 2015, OLAF, the anti-fraud office of the European Union, published a damning report on the massive embezzlement by Polisario leaders of international humanitarian aid destined to the Tindouf camps population.
After eight years of investigative work, OLAF revealed the procedure put in place by the Polisario leaders, with the complicity of Algerian officials. The scheme begins as soon as the humanitarian aid is unloaded at the Algerian port of Oran.
The embezzling network then sorts out the aid, sending a small part to the camps, while most of the assistance is conveyed to markets in Algeria, Mauritania and Mali, the OLAF report disclosed.