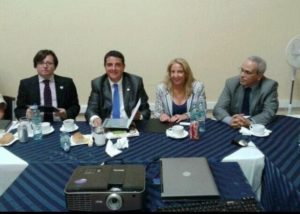 The Latin American Center for Democracy Studies has denounced the Polisario Front's attempts to change the status quo of the buffer zone in Western Sahara, pinpointing Algeria's role in these maneuvers that undermine peace, security and stability in the region.
Through these stratagems, the Polisario and its supporter, Algeria, seek to change the status quo of the buffer zone, especially near Guerguerat, which is a flagrant violation of the 1991 ceasefire agreement and UN resolutions on the Sahara issue, says the Latin American center in a statement relayed by the Mexican news website "Siempre.mx".
These blatant violations of the cease-fire and UN resolutions by the Polisario "are very serious and must be denounced by the international community as an attack on the territorial integrity of Morocco and its efforts to achieve a peaceful political solution to this dispute," says the center's director, Mrs. Jacqueline Hernández.
The hostile maneuvers of the Polisario and Algeria are hatched in response to the new dynamics of Moroccan diplomacy in Africa and Latin America, says Jacqueline Hernández.
For his part, the President of the Latin American Center, Antonio Yelpi pointed out in an article published on "siempre.mx" that King Mohammed VI is an "emblematic" figure of Pan-Africanism, whose leadership outlines the multiform projection of Morocco in Africa.
Under the King's leadership, Morocco is devising a set of strategies meant to consolidate its relations with all countries in Africa and Latin America, as part of South-South cooperation, Antonio Yelpi underlines.
Antonio Yelpi, who is also President of the Africa-Latina Foundation, noted that Morocco's return to its institutional family, the African Union, has given a new impetus to its strategic partnership with African countries in various fields, including investment promotion, development advancement, and cooperation in the fight against terrorism.
Thanks to this same dynamic, Latin America has become for Morocco a priority in South-South cooperation, he added.