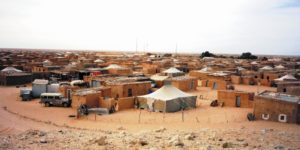 A senior Polisario executive has sneaked out of the headquarters of the Polisario separatist front in Rabouni classified documents revealing the forms of torture inflicted on Sahrawis and Mauritanians in the Polisario-run jails in the Algerian desert.
These classified documents reveal the serious violations of human rights by the Polisario torturers in the Tindouf camps, under the passive gaze of the army and the authorities of Algeria, the host country.
The Polisario leaders were already going through hard times since last week's escape from the Tifariti prison of 19 detainees from the southern provinces of Morocco who were serving a sentence ranging from 15 to 16 years for alleged drug trafficking.
The new case would surely worsen the Polisario leadership's feeling of embarrassment, especially since the secret documents on the practices of the jailers of the Tindouf camps were sent to Mauritania to be handed over to international NGOs defending human rights.
According to a Moroccan daily, one of the Polisario executives took the compromising documents out of the Tindouf camps and handed them over to an activist of the Youths' Movement for Change (MJPC), a protest movement that took refuge in Mauritania.
The secret documents reportedly provide irrefutable evidence of the inhumane practices inflicted on civilians in the notorious Errachid Prison. This place has often been denounced by escapees of the Tindouf camps, who describe how they have been savagely tortured and how their rights and dignity have been seriously violated.
The leaked documents also include, according to the newspaper, details on the identity of the perpetrators of these abuses.
Not need to recall that most of the Polisario torturers are already known. Actually, reports published by international NGOs quote the testimonies of some victims who mention the names of senior executives of the Polisario as authors of such abuses, including Bachir Mustapha Sayed, Mohamed Lamine Bouhali and the current leader of the Front, Ibrahim Ghali.
Ibrahim Ghali is subject of an arrest warrant issued by Spanish courts for his documented involvement in acts of torture, rape and even crimes against humanity.