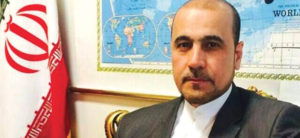 Amir Moussaoui, the controversial cultural attaché at the Iranian embassy in Algeria, ended up packing up and leaving his post in Algiers.
The Iranian diplomat announced his departure himself, before the news was relayed by Algerian media, while the Algerian Foreign Ministry, headed by Abelkader Messahel, glossed over it.
The presence in Algeria of the Iranian cultural attaché was contested by many voices that criticized him for his occult activities, including Shiite proselytizing in the North African country.
Among the critics was the former communications officer of the Algerian Ministry of Religious Affairs, Adda Fellahi, who had accused him of carrying out activities unrelated to his official status.
Amir Moussaoui was also finger-pointed in Morocco for his proven role as intermediary in the delivery of weapons by the Lebanese Hezbollah to the separatist Polisario Front.
The role of the Iranian intelligence agent, who was acting under the cover of Iranian diplomat, in the collusion between Hezbollah and the Polisario, made the headlines in May as his acts interfered in the very sensitive issue of the Moroccan Sahara.
The actions of the alleged Iranian "cultural attaché" were thus at the origin of a new rupture of diplomatic relations between Morocco and Iran. Following revelations of his actions in May, rumors about his expulsion from Algiers emerged, but he denied them then.
At the beginning of May, Foreign Minister Nasser Bourita announced, without naming Amir Moussaoui, that Morocco had decided to break off relations with Iran because of the proven military support of Iran's Lebanese ally, Hezbollah, to the Algeria-backed Polisario.
The hasty departure of the controversial Iranian diplomat finally confirms the accusations laid against him by Moroccan officials.