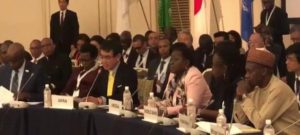 Japanese Foreign Minister Tao Kono unmasked on Saturday the deception of Algerian diplomacy that allowed Polisario members to enter Japan with Algerian diplomatic passports to attend a ministerial preparatory meeting of the Tokyo International Conference for Development in Africa (TICAD VII), held in Tokyo.
The head of Japanese diplomacy confirmed that members of the separatist Polisario front, who were present, last Saturday, at the TICAD VII preparatory meeting, co-organized by Japan and the African Union (AU), have entered actually Japan with Algerian diplomatic passports.
The Polisario members managed to enter Japan with Algerian passports and were able to access the ministerial meeting with badges obtained from the AU Commission, with Algerian assistance.
The Japanese Foreign Minister, Taro Kono, reacted to this intrusion and strongly denounced this subterfuge, knowing that the so-called Sahara republic (SADR), self-proclaimed by the Polisario, is not recognized by Japan or any other major capital.
In protest against the presence of these "unwanted intruders" at the TICAD ministerial meeting, the Moroccan delegation, led by Foreign Minister Nasser Bourita, withdrew from the meeting hall.
The host country's chief diplomat was not late to respond in clear-cut terms that made the Polisario members and Algerian diplomats very uncomfortable.
"I would like to announce that even if a group, which claims itself as a State that Japan does not recognize, sits in this room, this does not mean in any way, that Japan recognizes, implicitly or explicitly, this group as a state," he said in a plenary session, referring to the Polisario intruders.
To make things clearer as to the imposture of the Polisario and the Algerian diplomacy, the Japanese minister said "I would like to make it clear that it is not allowed to put any flag other than that of the African Union (AU) and Japan," warning that "anybody who disrupts the order will be asked to leave" the summit.
The host country, which considers the Polisario's intrusion as a deception, made it clear that its position on the Sahara issue has not changed.
It is clear, therefore, that Japan has not sent an invitation to any member of the African Union that is not a sovereign state, recognized as such by the international community, and that the presence of Polisario members in Tokyo is the petty work of Algerian diplomacy.