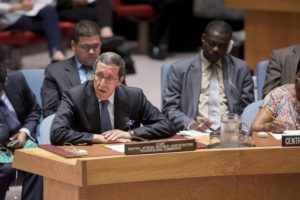 Morocco has asked for withdrawing the Sahara issue from the UN 4th Committee agenda, as the Security Council has been dealing with the issue since 1988.
"Maintaining the Moroccan Sahara issue on the agenda of the 4th Committee is in flagrant violation of the UN Charter and the mandate of the security Council, said Tuesday Morocco's Permanent Representative to the UN Omar Hilale.
In his address before the Fourth Committee of the UN General Assembly, Omar Hilale explained that "the Moroccan Sahara is, in fact, the only issue that continues to be subject of discussion and resolution at the Fourth Committee, while the Security Council has taken up the issue since 1988". 
The ambassador thus described as "anachronistic" this double examination of the Sahara issue that is being made, he said, in violation of Article 12 of the UN Charter.
He noted that Article 12 of the UN Charter clearly stipulates that "while the Security Council is exercising in respect of any dispute or situation the functions assigned to it in the present Charter, the General Assembly shall not make any recommendation with regard to that dispute or situation."
The Moroccan diplomat recalled that the goal of the founding fathers of our organization through this article is threefold:
– Prevent a situation where two UN bodies deal with the same issue;
– Avoid the adoption of contradictory decisions, as is currently the case with the resolution of the 4th Committee on the Moroccan Sahara and that of the Security Council on the political process;
– and Guarantee the preponderance and prominence of the Security Council, which is the source of international law and remains the principal UN body in charge of the maintenance of international peace and security.
For these reasons, and in order to secure a peaceful and appropriate atmosphere to reactivate the political process, under the auspices of the Security Council, Morocco "will never stop calling for the withdrawal of the Sahara dossier from the fourth Committee agenda", Omar Hilale said.