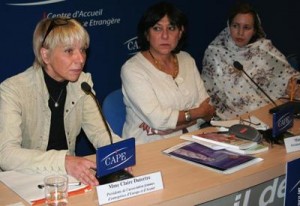 The impunity prevailing in the Tindouf camps and the suffering endured by the sequestered populations for over 39 years have been vehemently criticized by human rights activists in Geneva.
The Tindouf camps are a blatant illustration of the denial of fundamental freedoms, such as the freedom of expression and movement, for an entire generation of women and children, said on Tuesday in Geneva these human rights advocates at panels organized on the sidelines of the ongoing 25th session of the Human Rights Council (HRC.)
"These freedoms are equal to the right to life and constitute the very foundation of the exercise of all other rights in any state that claims to be democratic," said Swedish national Al Kodra Alhir who is Executive Director of the European Centre for Human Development.
The Swedish activist mentioned the striking case of the Tindouf camps in Algeria, where thousands of people have been living for decades in "inhumane conditions" and "enduring imprisonment, blackout and suffering while the international community is unable to react."
Alhir deemed unconceivable that thousands of people be forced to live in makeshift camps, be besieged and be deprived of any right to speak or move freely.
The same observations were made by the Sahrawi activist Aicha Douihi, chairwoman of the Association "Sakia Al Hamra for human rights defense." She pleaded the cause of the Sahrawis from southern Morocco who are settled in Tindouf and who continue to suffer worst abuses and denial of their rights of expression and movement and who are thus denied the right to join or even get in touch with their families.
It is high time the international community intervened to break the wall of silence surrounding these camps and give the residents free choice to remain in the camps or to join their motherland, Morocco, she said.
Saadani Maoulainine, another Sahrawi activist who was deported to Cuba while she was barely 5 year old, denounced the impunity enjoyed by the torturers of the Tindouf camps and laid a special emphasis on the extremely hard living conditions of women and children in these makeshift camps.