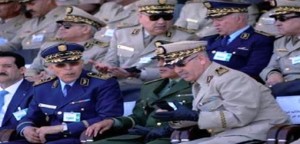 The family of Ahmed Khalil, a Polisario Front executive, victim of a forced disappearance since January 2009 while on a trip to Algiers, broke its silence over the weekend and demanded that Algerian authorities reveal the truth about the fate of this father and spouse who would be 62 year old if he is still alive.
Ahmed Khalil, who held the position of Advisor to the head of the Polisario, Mohamed Abdelaziz, on Human Rights, has not been heard from since he disappeared in down town Algiers in January 2009. He made the trip to Algiers to give lectures on human rights issues in Algerian universities. He was said to be about to denounce the serious violations of human rights by the Polisario torturers in the Tindouf camps.
His family is running out of patience, not knowing if their loved one is still alive or if he has been killed, as had been many Polisario opponents and dissidents.
Informed Sahrawi sources assure that agents of the Algerian intelligence services and Polisario militiamen were behind the mysterious disappearance of Khalil in Algiers.
According to these sources, Khalil had been kidnapped and possibly eliminated for having openly criticized the serious violations of human rights in the Tindouf camps. Besides, the Polisario leaders suspected him of wanting to flee the camps and go to Morocco, where he would have been free to make revelations about what was happening in the Rabouni camp in Tindouf.
Out of fear of reprisals, Khalil's six brothers, who are banned from leaving the Tindouf camps, are keeping silent on the matter.
But his son, Rachid Khalil, who is settled in San Sebastian in Spain, is striving to know the fate of his father. In a latest development, last Saturday, he told the Spanish news agency Europa Press that "what we ask for is justice."
Human rights NGOs are now concerned that Ahmed Khalil's family members who are still stuck in Tindouf would pay the price of this new development.