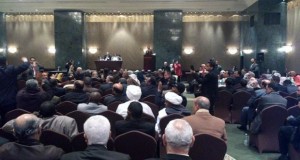 The Arab Lawyers' Union reaffirmed that Western Sahara is a Moroccan territory and reiterated its support for Morocco's efforts to reach a peaceful and comprehensive solution to its territorial dispute with Algeria.
At a meeting in Cairo, the Union's new Secretary General Abdellatif Bouachrine said Morocco is undergoing "a war of secession led by an Arab state," alluding to Algeria without naming it.
If all historical, geographical and demographic material proofs suggest that Western Sahara is Moroccan, on the contrary, the Polisario Front does not fulfil any requirement to statehood such as history, identity, or territorial sovereignty, he said.
The Secretary General recalled in this respect previous resolutions and recommendations reaffirming the Arab Union's support to Moroccan efforts seeking a peaceful and comprehensive solution to the Sahara conflict, mainly through granting a large autonomy to the Sahara provinces under Moroccan sovereignty.
In a final statement, the Union's permanent bureau reiterated its rejection of any "foreign interference" in the Moroccan Sahara issue and stressed the need to reopen the borders between Morocco and Algeria.
The new Secretary General of the Union, Abdellatif Bouachrine, a lawyer of the Casablanca Bar, was elected to the position on January 16. He had obtained 30 votes against 16 for his only challenger, Kuwaiti Dokha Hosban, after three other candidates- Jordanian Sameh Khriss, Palestinian Hatem Abbas and Sudanese Ishaq Shaddad- withdrew their candidacies.