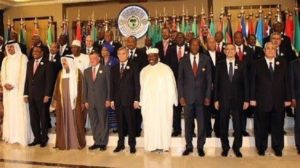 The presence of a Polisario delegation at the 4th Africa-Arab World summit in Malabo, Equatorial Guinea, has poisoned the atmosphere and prompted the withdrawal of Morocco and eight other participating countries from the gathering.
The nine countries were angered by the display of the flag of the Sahrawi Republic, self-proclaimed by the Polisario.
Morocco has withdrawn from the summit to "protest the display of the flag of a puppet entity in the conference hall," said the Moroccan Ministry of Foreign Affairs in a statement. It explained that the pseudo Sahrawi republic "SADR" is not member of the UN and therefore cannot take part in this summit, as stipulated in previous agreements between the African Union and the Arab League.
The withdrawal of the nine Arab countries, including the rich oil monarchies of the Gulf, created great disappointment among participating delegations, all the more so as many African countries were pinning hopes on getting assistance from the Gulf States to fund their major development projects.
The summit proceedings continued in Malabo on the theme of economic cooperation, in the absence of Morocco, which has also become a major investor in Africa, as well as Saudi Arabia, the United Arab Emirates, Bahrain, Qatar, Oman, Jordan, Yemen and Somalia.
It has been rumored behind the scenes of the summit that it was not the organizing country, Equatorial Guinea, which invited the Polisario delegation. The presence of this delegation was facilitated by Algeria with Egypt's backing, as President Abdel Fattah al Sissi's relations with both Morocco and its allies in the Gulf are tense. Moreover, it is because of these strained relations that the Egyptian president did not show up at COP22 held in Morocco November 7-18.
Algeria's bias in the territorial dispute between Morocco and the Polisario, which claims the independence of a portion of the Moroccan Sahara, is well-known, but Egypt has just shifted its stand and positioned itself on the side of the Algerian regime in its battle Against Morocco.
Last October, Egyptian authorities authorized, probably at the instigation of Algeria, the participation of a Polisario delegation in an Arab-African Parliamentary Conference in Sharm El-Sheikh. The Egyptian President is seemingly trying to obtain, through his rapprochement with Algiers, cargoes of Algerian oil to remedy the situation after Gulf countries, mainly Saudi Arabia, stopped their assistance to his country.