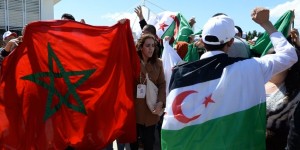 The Algerian regime, which has exhausted all its diplomatic means in the territorial dispute opposing it to its Moroccan neighbor over Western Sahara, seems to have opted for the rule of provocation and vandalism.
Otherwise, how can one explain that nearly 3,000 hand-picked Algerians were sent to Tunis along activists of the Polisario Front, supposedly to attend the proceedings of the World Social Forum 2015? In fact, they were instructed to sabotage all the meetings and conferences on the Sahara issue attended by members of the Moroccan delegation.
The Algerian and Polisario trouble-makers did not interfere just to interrupt the debates, but also destroyed the flags and banners hoisted in the Moroccan stand and physically assaulted many Moroccan participants.
A Tunisian security guard, caught in the turmoil, was stabbed while a Saharawi woman from Dakhla was about to be assaulted by an uncontrolled Algerian but was saved in extremis by members of the Moroccan delegation.
The Algerian vandals also threatened the French NGO "Terre des Hommes", which was planning to hold a conference on "Human Rights in the Sahara." The event was cancelled at the last minute.
Another conference held on Thursday, March 26, at the Economic Sciences College by the French publication Politis was suspended after some thirty Algerians stormed the premises shouting pro-Polisario slogans. The damage was limited to few broken chairs.
Following the Algerians' violent outbreaks, the WSF general coordinator complained to Tunisia's Presidency. According to Tunisian sources, the Presidency is planning to send a letter of protest to the ambassador of Algeria in Tunis.
The General Coordinator, Mouhieddine Cherbib, is accusing the Algerians of premeditated aggression against Moroccan participants in debates on the Western Sahara issue.
For its part, the WSF organizing committee will engage legal proceedings against an Algerian participant for having threatened with a knife a member of the committee who was trying to contain a group of 100 Algerian activists chanting slogans hostile to Morocco and its sovereignty over the Sahara.
This is the new modus operandi tested by Algerian authorities to irritate their Moroccan neighbors not knowing where all this will take them.