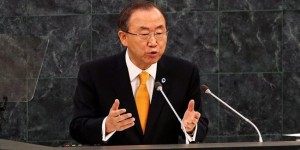 UN representatives have had earlier this week the opportunity to realize firsthand that calm was prevailing in Western Sahara and that the claims put forward by the Polisario and its Algerian mentors on alleged human rights violations were a mere deception.
The members of a delegation of the Office of the High Commissioner for Human Rights, arrived in Laayoune, the main town of the region, on Tuesday, have thus clearly noticed the undeniable quietude prevailing in Western Sahara, where the population conducts its daily business for the overall good of the whole community.
Although a dozen teenagers tried to provoke the law enforcement agents by throwing stones at them, the police remained unmoved.
The separatist activists that are usually quick to take any picture likely to support the Algeria-backed Polisario propaganda on social networks returned empty-handed. Move along, there is nothing to see.
Meanwhile, the visiting delegation members had talks with executives of the local office of the Moroccan Human Rights Council (CNDH) in the city as well as with members of CODESA, an association chaired by pro-Polisario activist Aminatou Haidar. All the delegation's activities took place peacefully.
The calm prevailing in the region is also acknowledged by the UN Secretary General, Ban Ki-Moon, in his April report to the Security Council, where he states that the situation in Western Sahara is "calm."
The situation on the ground probably explains why the UN SG has simply ignored the calls launched by Algeria, the Polisario and the African Union urging for the expansion of the MINURSO mandate to human rights monitoring.
Besides, many countries have realized that the human rights violations claimed by the Polisario Front and the Algeria-financed media outlets are unfounded allegations. These countries have come to the conclusion that the accusations are primarily intended to block the political process triggered by the Morocco-proposed autonomy plan.
The plan was described by the Security Council and many world powers, including France and the USA, as "a serious and credible" basis for the settlement of the Western Sahara conflict.