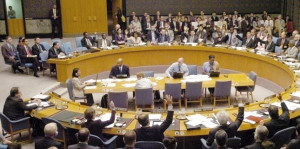 Morocco could take a huge step ahead of its opponents in the diplomatic battle over its territorial integrity that the Algerian neighbor has been waging against it for 40 years.
The draft resolution on Western Sahara that the UN Security Council (SC) is to adopt on Tuesday, April 30, is clearly in favor of Morocco, according to available information.
The draft text incorporates the broad lines of the annual report of the UN Secretary General, Ban Ki-Moon, and was drafted by the United States representation to the UN. The text does not mention, as wished by Morocco, any expansion of the MINURSO mandate to human rights monitoring.
However, the Council will extend through April 2016, the peacekeeping mission in Western Sahara, as it will for the first time, call for the organization of a census of the Tindouf camps refugees, an operation that requires prior approval of the host country, Algeria.
At the humanitarian level, the Council insists in its resolution on "the importance of improving the situation of human rights in Western Sahara and in the Tindouf camps" and "encourages the parties to cooperate with the international community to develop and implement independent and credible measures" in this context.
The resolution also recommends that the parties to the conflict engage in more intensive and substantial negotiations, under the auspices of the UN Secretary General's Personal Envoy Christopher Ross.
The Personal Envoy undertook a tour in the region last February. A month later, he visited the Tindouf camps and Algiers without passing through Rabat and Nouakchott.
Ross went back to Tindouf and Algiers in March to take the pulse of Algerian and Polisario leaders about the Moroccan autonomy proposal as a basis for negotiating a final settlement of the Western Sahara conflict. Obviously, although a number of heads of Sahrawi tribes in Tindouf adhered to the Moroccan proposal, Algeria and the Polisario have once again rejected the option.