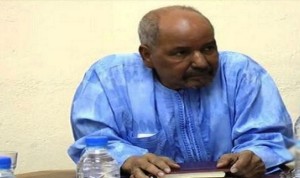 The latest developments in the Western Sahara issue plunged the Polisario leader Mohamed Abdelaziz in a deep depression.
After he lost one of his last trumps, that of expanding the MINURSO mandate to human rights monitoring in Western Sahara with the aim to weaken the position of Morocco, Abdelaziz found himself caught between a rock and a hard place, the orders of the officers of the Algerian military intelligence services and the anger of the Sahrawi protestors in the Tindouf camps who demand his stepping down.
The unmovable head of the Polisario Front, who is suffering from cancer, looked in a recent picture that was largely circulated on the web exhausted and very weak. The picture taken at a recent meeting he chaired in Rabouni camp shows a tired, swollen Mohamed Abdelaziz with visible signs of depression on his face.
A Sahrawi dissident in the Rabouni camp that hosts the Polisario headquarters told us over the phone that Abdelaziz is surely exhausted because of his serious health condition but what affects him most is the harsh criticism he is subject to from all parts.
Our interlocutor said Abdelaziz perceived the latest UN Security Council resolution extending for one year the MINURSO mandate in Western Sahara without any allusion to human rights monitoring as part of the evil spells that continue to dog his separatist front.
The European Parliament undermined still further the morale of Abdelaziz and his lieutenants when it adopted a resolution conditioning the granting of future EU aid to the Tindouf camps refugees by the census of these refugees.
The Security Council also demanded Algerian authorities and the Polisario leadership to authorize the holding of a census of the Tindouf camps population.
According to the Sahrawi dissident, the Polisario leader has lately limited his contacts and become less talkative, besides the fact that he rarely leaves his office.
One thing is certain, however, is that the camp residents no longer believe in the promises of Mohamed Abdelaziz and his lieutenants nor in those of the Algerian civilian and military leaders, the dissident said.