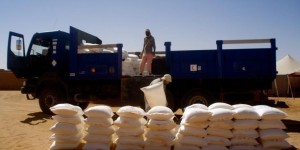 The Algeria-backed Polisario Front has launched an appeal for international humanitarian aid to the Tindouf camps populations, but international donors are not knocking down the door after the European Anti-Fraud Office (OLAF) revealed the scandalous misappropriation of international aid by Algerian and Polisario officials.
The Polisario, which deplored the "drying up of funds provided by international institutions," has estimated the urgent needs at $ 10 million just to meet "the population's food needs."
With the exception of one million euros pledged by Italy, "we do not see any donations coming this year," lamented an official of the separatist movement claiming the independence of Western Sahara.
The international donors' mistrust has increased since the publication in January of the OLAF damning report incriminating Algerian and Polisario officials. The OLAF investigation showed, with numerous supporting figures and details, how the embezzlers set up an organized mechanism to massively divert humanitarian assistance as soon as the cargoes arrive in the Algerian port of Oran.
After the publication of the OLAF report, the European Parliament demanded the holding of a census in the Tindouf camps, south-western Algeria, to have accurate data about the population settled there. European MEPs also asked Brussels to condition the EU assistance to the organization of the census.
For its part, the Security Council, in a resolution adopted late April, asked Algeria to allow a census of the camp population. This population is now facing food shortage and deprivation because of the greed of the authors of the large-scale diversion of humanitarian aid, namely the Polisario leaders and their Algerian accomplices.