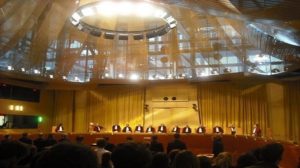 The Polisario Front and its supporters in Algiers are in shock following the verdict of the Court of Justice of the European Union (ECJ), which invalidated the first instance judgment of December 10, 2015 that had partially annulled the agricultural agreement concluded by Morocco and the European Union in 2012.
The ECJ ruling delivered on Wednesday seems to have caught off guard the Polisario leadership and their Algerian mentors who were confident that magistrates of the court of appeal would confirm the first instance judgement in favor of the separatists.
Such expectations reveal that Algeria and its Polisario puppets underestimated Morocco's strategic position in the European Union's partnership and neighborhood policy.
The outcome of this case, which has greatly embarrassed most EU member states, was however predictable, especially since September 13, when the ECJ's Chief Advocate General Melchior Wathelet recommended in his legal opinion the invalidation of the judgment of December 10, 2015 on the partial annulment of the Morocco-EU agreement.
In his opinion piece, Melchior Wathelet challenged the court's ruling, explaining that the Polisario front is not a legitimate organization that can put into question the Morocco-EU trade agreements. He argued that the Polisario's appeal to a European court was inadmissible as the separatist front does not have the standing to represent the economic interests of the Western Sahara region, and therefore cannot claim to be the exclusive representative of the Sahrawis in international relations. The advocate general had pleaded for overturning the verdict.
Actually, the Polisario and its self-proclaimed pseudo-republic "SADR" are not recognized by the European Union, the UN or any other international, continental or regional organization with the exception of the African Union.
In a first official reaction to the Wednesday verdict, the EU's High Representative for Foreign and Security Policy and the Moroccan Foreign Minister stressed in a joint statement that the two sides "took note of the ruling delivered on Wednesday by the Court of Justice of the European Union on the Agricultural Agreement between Morocco and the European Union."
The ECJ judges ruled "inadmissible" the action for annulment against the said Agreement, introduced by the Polisario Front, the two sides said, affirming that "the EU-Morocco Agricultural Agreement remains in force."
Of course to the discontent of the Polisario, Algeria and their European lobbyists who work behind the scenes in Strasbourg and Brussels.