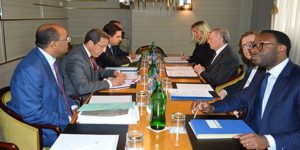 Morocco demanded and obtained from the UN Secretary General's Personal Envoy for the Sahara bilateral consultations on the Sahara issue, thwarting thus the ambitions of the Polisario Front and its sponsors for direct negotiations that they hoped would result in a de-facto recognition of the pseudo-Sahrawi Republic "RASD" by Morocco.
A Moroccan delegation, led by Nasser Bourita, Minister of Foreign Affairs, held on Tuesday in Lisbon, bilateral talks with the UN mediator for the Sahara, Horst Köhler.
The meeting, which started Tuesday morning at the Altis Grand Hotel in Lisbon, "was to continue all day, followed by a working dinner," said the Moroccan foreign department on its twitter account.
Horst Köhler was accompanied by his senior adviser David Schawke and his spokesman Obina Okinba, while the Moroccan delegation, led by Nasser Bourita, included the Permanent Representative of Morocco to the UN, Omar Hilale, and the presidents of the regions of Laayoune-Sakia El Hamra, Sidi Hamdi Ould Errachid and of Dakhla-Oued Eddahab, Ynja Khattat.
The participation of the presidents of these two Moroccan southern regions as the legitimate representatives of the populations of the Sahara provinces deflates the allegations of the Polisario, which claims to be "the legitimate representative of the Sahrawi populations". This participation is also a message first and foremost to the new UN mediator and through him to the entire international community.
The Lisbon meeting, held at Köhler's invitation, is part of Morocco's ongoing cooperation with the UN "to reach a definitive political solution to the regional dispute over the Moroccan Sahara", insisted the Moroccan Foreign Ministry in a statement issued on the eve of the meeting.
During the consultations with Horst, the statement added, "the Moroccan delegation will be guided by the fundamentals of the national position" as defined by King Mohammed VI, in a speech of November 6, 2017, on the occasion of the 42nd anniversary of the Green March.
It is in this context that Moroccan diplomats, who refuse any face-to-face meeting with the Polisario separatists, demanded bilateral discussions with the personal envoy of the UNSG.