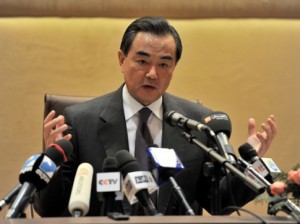 The Algerian media felt frustrated by the Chinese Foreign Minister who was not very talkative when asked about the Western Sahara conflict.
Harassed by Algerian journalists on his country's position vis-à-vis this conflict, the visiting Chinese Foreign Minister Wang Yi courteously answered that the Sahara issue "affects solidarity between Maghreb countries and the integration of the region."
This issue must "be settled within the framework of UN resolutions," he said, adding that "China is ready to play a constructive role in this context."
However, during his trip to Morocco, Wang Li was perceptive to the Kingdom's position and concerns and renewed his country's repeated calls to respect States' territorial integrity and sovereignty.
China and Morocco share a common position: they are both against undermining other states' territorial integrity or interfering in their internal affairs and they both uphold the respect of States' sovereignty, the Chinese official said.
The Chinese Foreign Minister also welcomed the coordination existing between the two countries, within the United Nations as well as at the level of other international organizations.
Wang Li, who was on an official visit to Morocco December 22-24, also reiterated that China's position on the territorial dispute over the Western Sahara "is constant and has not changed."
He said that China, as a permanent member of the Security Council, will continue to play a constructive role while inviting the parties to the conflict "to show pragmatism and flexibility and to continue negotiations on the basis of the Security Council resolutions to reach a just, lasting and mutually acceptable solution."
Through these assertions, the Chinese Foreign Minister has indirectly pulled the rug from under the feet of the Algerian leaders and media that were hoping to obtain from the Chinese official statements backing the Polisario's separatist thesis.