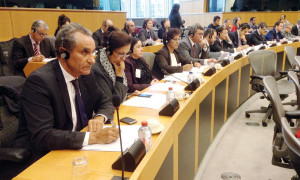 The European Parliament Foreign Affairs Committee has rejected all the amendments that pro-Polisario MEPs wanted to include in the European Parliament draft annual report on Human Rights.
The Polisario separatists and Algerian diplomats in Strasbourg suffered thus new setbacks in the diplomatic battle over Western Sahara waged by the Algerian regime against Morocco.
This happened at a time the Polisario leaders and their Algerian mentors have not yet assimilated their crushing defeat when the European Union and Morocco concluded a new fisheries agreement covering waters off Western Sahara.
The EP Committee acknowledged through the rejection of the amendments that "the Kingdom respects human rights and that the process in this matter is being consolidated," said Abderrahim Atmoun, co-chairman of the EU-Morocco Parliamentary Committee, over the phone shortly after the adoption of the draft report by the 40 members of the Foreign Affairs Committee.
"No changes were introduced in the section on Morocco in the EP annual report," said Atmoun, Member of the Moroccan Parliament upper House, who was visiting Strasbourg. He said the committee's rapporteur, Italian MEP Panzeri, played "a crucial role" in the rejection of the amendments submitted by MEPs backing the Polisario separatist thesis.
One of the amendments rejected was proposed by Portuguese MEP Ana Gomezont, who wanted to include in the document a phrase calling for "the respect of the Sahrawi people's right to self-determination."
The committee rejected another amendment concerning the establishment of a "human rights monitoring mechanism" in Western Sahara.
 The EP's new report on human rights will be made public after it is endorsed at a plenary session in March.