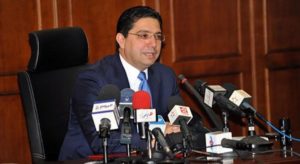 The Government of Jamaica announced on Wednesday its decision to withdraw its recognition of the pseudo-Sahrawi Republic "SADR" proclaimed by the Polisario Front, dealing thus a serious blow to the leaders of this chimerical entity created by the Algerian regime.
Jamaica is thus the 9th State of the Caribbean region to withdraw its recognition of so-called "SADR" and the third, after the Republic of Suriname and Zambia, to make such a decision since the beginning of this year.
"In an official document of the Ministry of Foreign Affairs and Foreign Trade, dated September 14, 2016, Jamaica announces that it has decided to withdraw its recognition of the self-proclaimed SADR," that it had recognized in September 1979, announced the Moroccan Ministry of Foreign Affairs in a statement released Thursday.
In this document that was handed over to Nasser Bourita, Delegate Minister to the Moroccan Minister of Foreign Affairs and Cooperation, currently on a visit to the Caribbean country, "Jamaica expresses its sincere hope that its position of neutrality and its continued support to the ongoing UN process will send the strong message that it stands with the international community in its effort to achieve a just and peaceful solution to this protracted regional dispute."
As a reminder, 34 countries have withdrawn, since 2000, their recognition of the so-called Sahrawi Republic that the Algerian regime has been striving, for over forty years, to impose in the Arab Maghreb region by amputating Morocco of its Sahara, the ultimate goal being to impose Algerian supremacy to all the peoples of the region.
Following the decision of the Government of Jamaica, Morocco and Jamaica have both voiced resolve to boost bilateral cooperation in various fields.
In this vein, preliminary discussions were held by Nasser Bourita with Jamaican authorities, and the two sides agreed to convene meetings between Moroccan and Jamaican experts to explore ways to expand and strengthen cooperation between the two countries through a series of technical and economic cooperation agreements especially in the fields of tourism, agriculture, irrigation and security.